Hunters, meet your new weapon. Purpose-built to elevate your hunting experience, the Hunt Edition delivers unmatched utility and versatility. Discover why it outshines the competition in every way.
Why choose UBCO Hunt Edition?
Save the sweat
With more torque and more power than hunting e-bikes, UBCO is better at hill climbing and has more grunt overall. You don't have to pedal (or sweat) on an UBCO to achieve the top speed of 40mph.
Carry more gear
Kitted out with cargo decks, molle panels, and gun/bow mounts, the UBCO frame has the surface area and capacity to carry all your gear and your catch (and you don't have to pedal).
Tackle rough terrain
Maintain control over rough terrain thanks to all-wheel drive traction. Alloy truss frame, stainless steel spokes, NZ designed and engineered, UBCO's are more solid and durable than e-bikes and more agile than ATVs.
Ride in comfort
Front and rear suspension, a large comfy seat (vs a small bicycle seat), no peddling or cranking through gears, UBCO offers better comfort than e-bikes.
Stay safer
UBCO is much lighter and more agile than an ATV, with no clutch or gears to manage. Weighing only 150lb and with a low centre of gravity, the crush risk is low and the AWD traction keeps the rider stable.
Go stealth
All electric, with low noise UBCO's electric motors give you the advantage of getting closer. And with no emissions you won't tip off your target with fumes. Activate 'Stealth Mode' to disable all lights.
Go off track
With a small footprint and AWD traction you can get places other larger vehicles can't. Take that narrow trail or traverse that steep bank with confidence. Plus they're light enough to carry on the back of a pick-up.
Save money
UBCO has low fuel costs and significantly lower maintenance costs than ATVs (ICE or electric). Our calculations show up to 99% reduction in tCo2 emissions and up to 98% saving in operational fuel costs over 30,000 miles compared to ICE ATVs.
"The experience of using an electric AWD vehicle to hunt, especially one as tough as the UBCO, is unbeatable – it's light, silent, and a blast to ride. I'm excited about where I can get to this season using this bike." — Shane Dorian. Hunter, HoF surfer, and co-collaborator on this Hunt Edition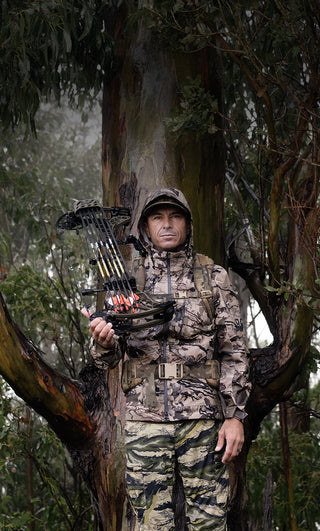 The 2X2 Hunt Edition is built to the exact specifications of hunters. It's a versatile and powerful off-road utility vehicle. Designed for the hunter. Built for the wild.
LEARN MORE