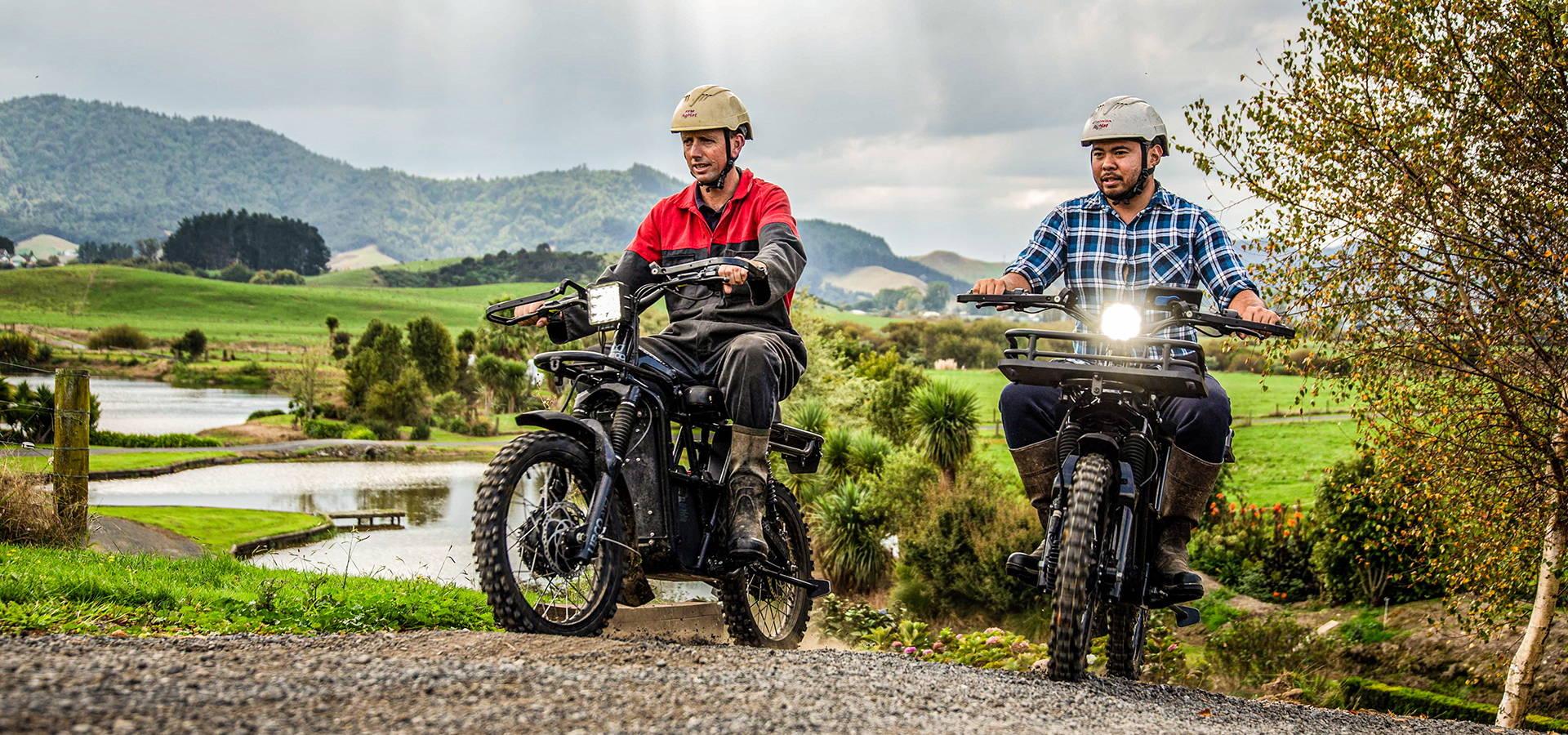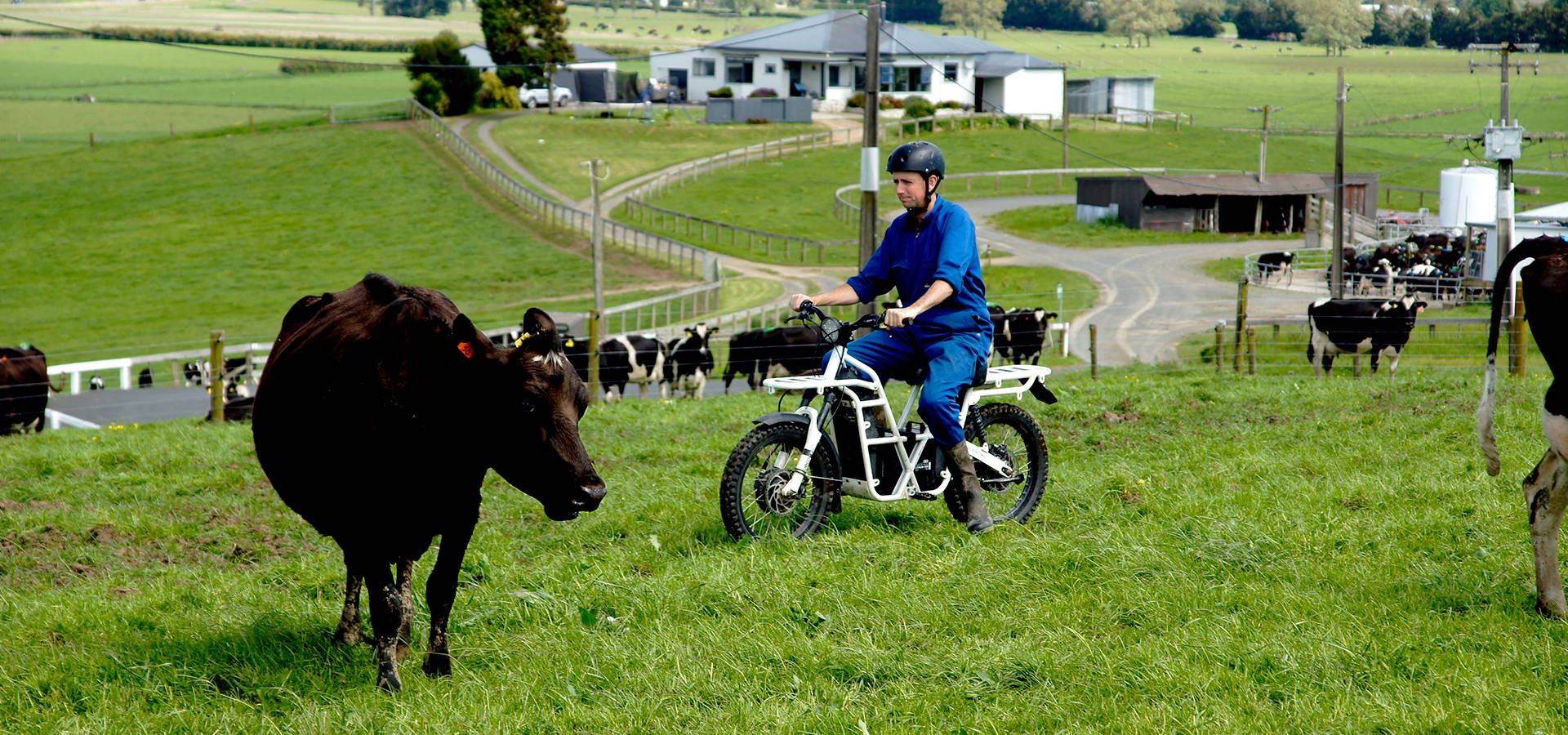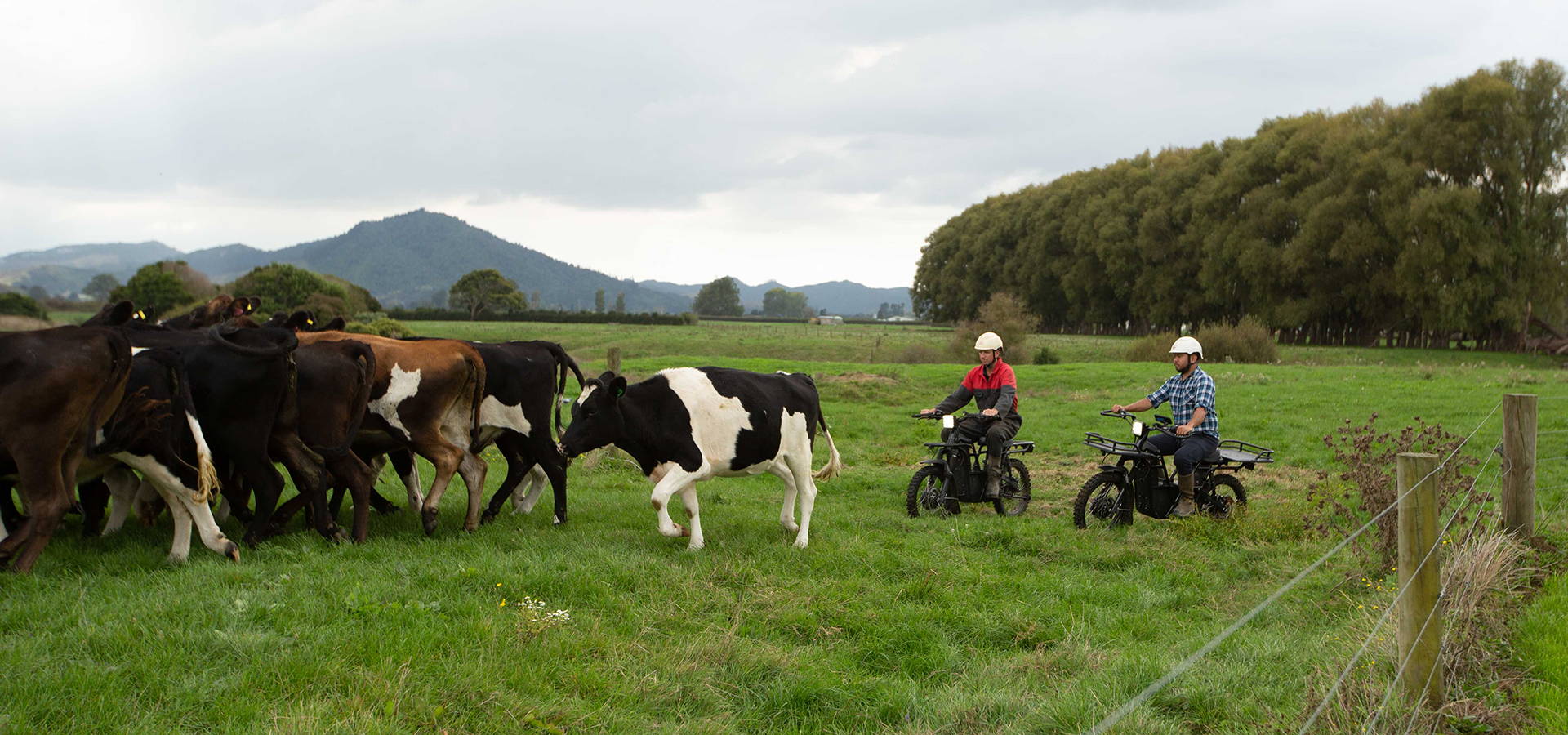 CASE STUDY: Agriculture
An early adopter
Back in 2016, Waikato based farmer, Grant Coombes, decided to embrace an 'electric' approach to farming by replacing his fleet of traditional farm bikes with UBCO 2X2's. For him, the bikes were part of a plan to improve sustainability, both on his farm and the wider dairy industry.
Always a progressive thinker, Grant's viewpoint in 2016 was: "Every innovative solution we implement on our farms that can reduce our environmental footprint and improve sustainability gives us and our dairy industry a competitive edge and helps us work towards a greener future – and the UBCO bike is part of that."
Having always been passionate about sustainability and health and safety, replacing his fleet of farm bikes with a more sustainable option was something Grant had considered for a while.
"We were running a fleet of quads and conventional 2-wheel farm bikes but had been looking at phasing out the quads for a while due to their cost and perceived H&S issue. Plus, there was the hassle of having fuel and oil stored on the farm and the issues associated with that. "
"The UBCO's 2-wheel drive and lightweight frame appealed to me as a replacement option for the 4X4 quads and traditional 2-wheelers, as we were restricted to where we could get in the wet conditions. Now we're certainly getting over terrain that we previously couldn't. The safety benefits of the 2X2's, such as the low centre of gravity, also appealed to me. There is a perception that quads are a health and safety issue, however, if they're used appropriately with the correct training they aren't. The problem is that doesn't always happen. Now our H&S discussions and training regarding operating the UBCO are 100 times easier."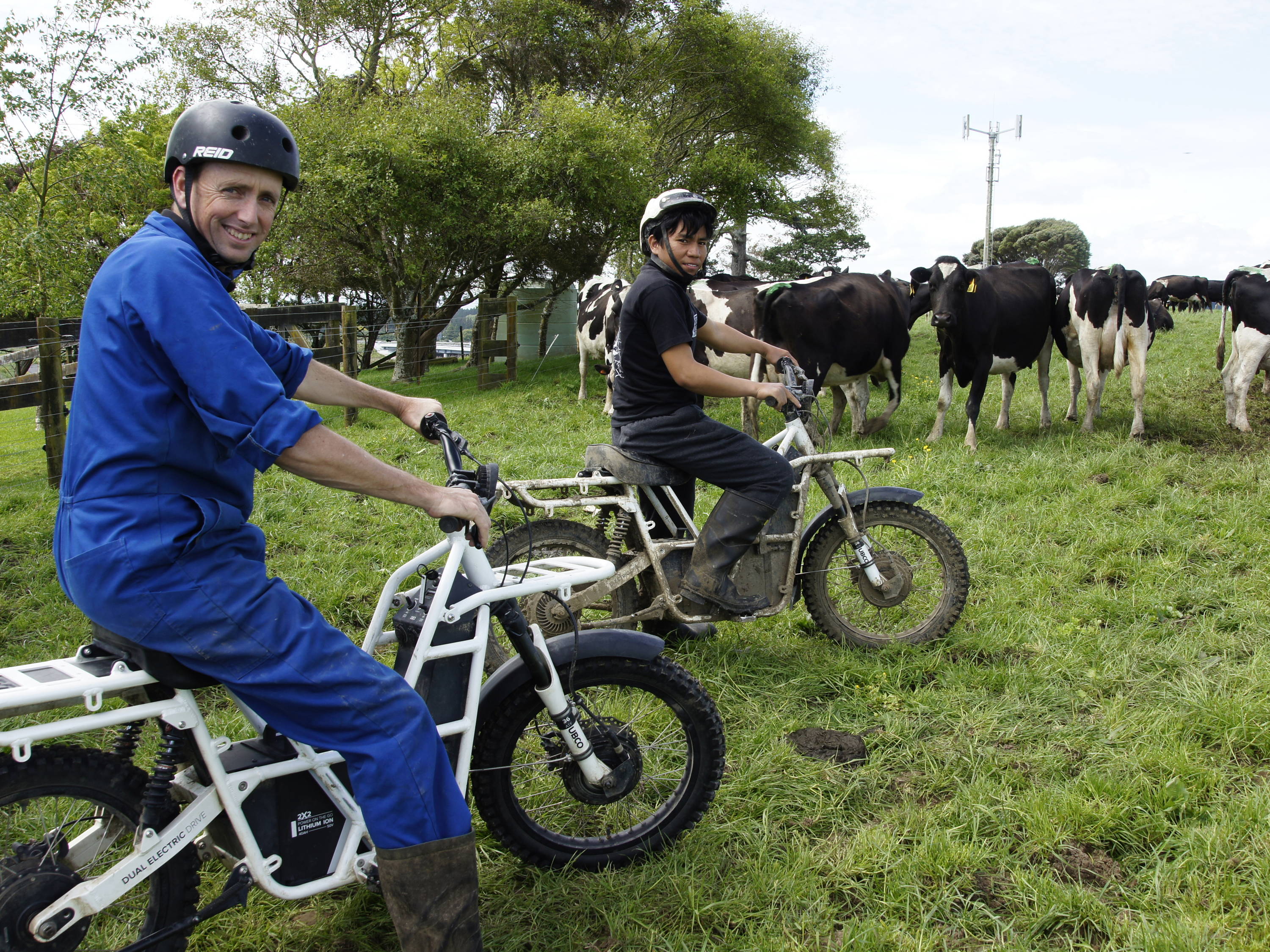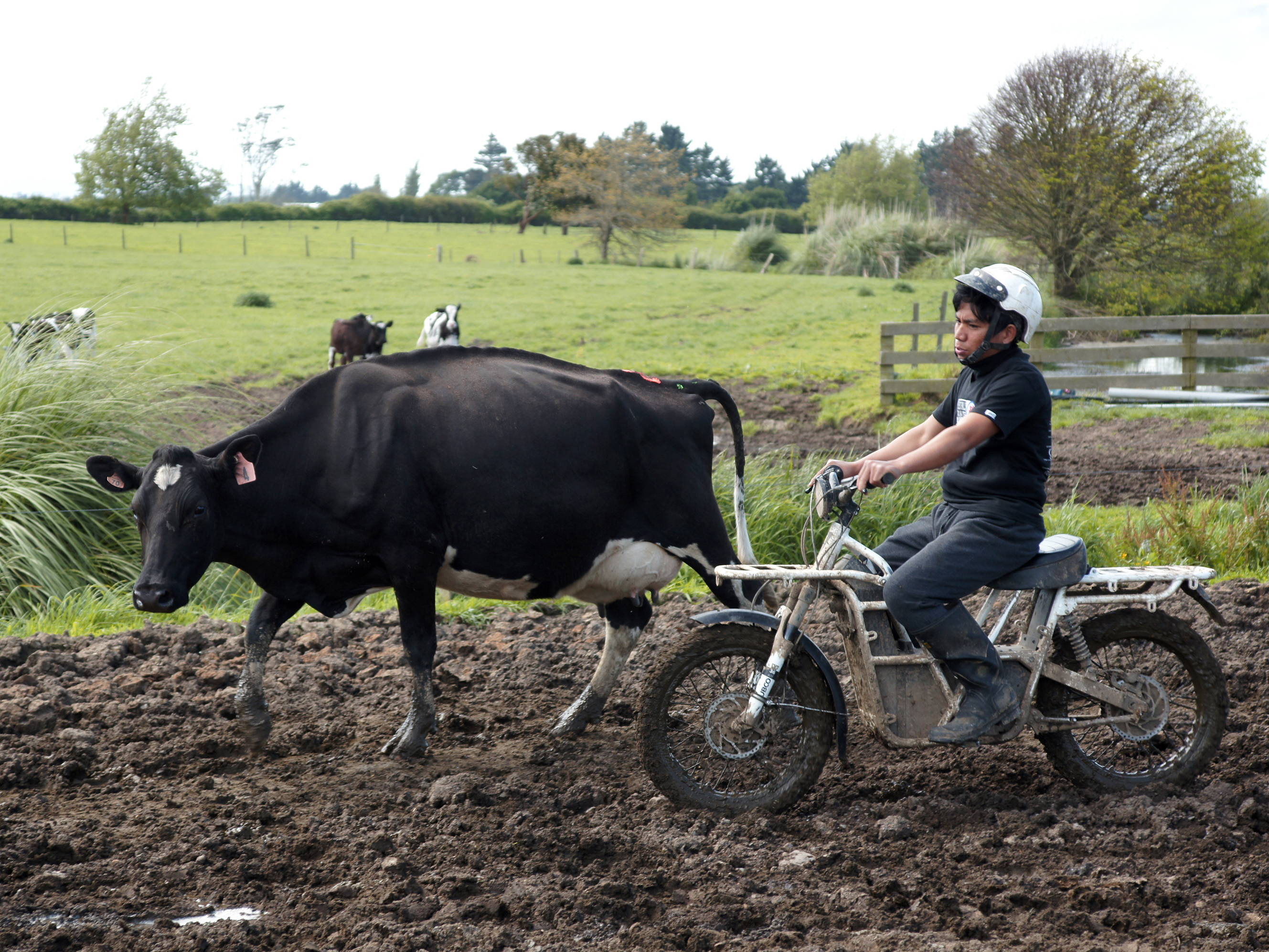 UFO Sightings
David admits it took some time for the cows to adjust to the silence of the 2X2.
"I remember when we first got the UBCO, it was a rainy night, and I went out to check the cows. The white bike, the silence, and the super bright light all shook them up a bit at first, I think they thought a UFO was coming in to land. But after a week they got used to it, and now they're fine."
Return on investment
In terms of farm bikes, the Verweys have one UBCO 2X2, as well as a petrol Honda and a Jailing motorbike. Cor's excited about seeing how the UBCO performs over the next few years.
"If the UBCO can last 5 – 6 years, then it's a good investment in my eyes, because most of our farm bikes only last 2 – 3 years, tops. And for our petrol bikes, we normally spend around $750 a year on petrol, and $250 on parts – but with the Ubco we're looking at around 360 charges a year at approximately 88 cents a charge in terms of electricity, so the difference is significant."
The downside of going electric
For Cor, one of the major downsides of the UBCO is that he can't hear if his workers are late for milking.
"Before we had the Ubco I could tell if David had accidentally slept in because I could hear him heading down the race on the petrol bike. But if he's riding the UBCO to the shed then he can get away with it. But at least I can sneak up on him if I've got the bike, so I guess it goes both ways." 
For more on Grant Coombes and his sustainability efforts, click here. A big thank you to Grant for taking the time to show us around his farming operation in the Waikato. Could an UBCO help you with your farming work? Shop now or test ride a 2X2 at your nearest dealer.