Our 2X2 Electric Adventure Bikes are fully electric and ready for adventure. Whether you're going on-road or off-road our bikes are perfect for everyday adventures or the daily grind.
Miles max range
Go near or far. With a max range of 75 miles you can go to work, run all the errands, or explore your local trails without having range anxiety.

Mph max speed
Perfect for city riding or off-road adventures. 30mph lets you keep up with the traffic or zip between it. Change from eco to boost mode when tackling a tougher ride.

Hours to full charge
Run an extension line to the bike or bring the battery indoors. Our 10 Amp charger plugs straight to your wall socket and into the battery.

Lbs max carry weight
Carry all you need for whatever the adventure with 19 drop forged attachment lugs on the subframe and rack.
Go packed. Get anywhere.
We've kitted the Special Edition with versatile carry options.
Mobile Cockpit
The mechanically locking and magnetic vibration dampening Peak Design phone mount enables phone protection and one handed phone attachment and removal.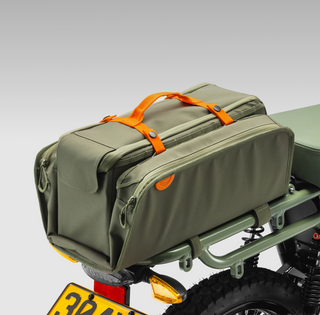 Center Carry-All
Fitting snuggly above the battery, the UBCO designed carry-all provides helpful storage for your bag, bottle, or the morning supply run.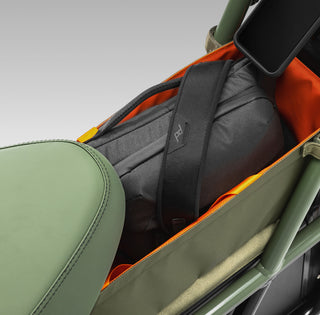 ALL-Wheel Drive
Front and rear motors provide better handling in wet weather and uneven terrain.
Ride from sun up to sun down. With no clutch, quick acceleration and responsive handling, the 2X2 will have you smiling from ear to ear.
Strap, store and carry. With a max carry weight of 330lbs, 19 lug attachments, adjustable suspension and capacity increasing accessories, this bike will help you pack more into your day.
Peak Design Special
Use your discount code PDUBCOSE23 at checkout to receive an extra 40% off a 2X2 Bike.